"OphthaTherapy. Therapies in Ophthalmology" (abbr.: OphthaTherapy) is a peer-reviewed scientific quarterly publishing papers in: ophthalmology, ophthalmic surgery (including minimally invasive surgery and laser therapy), pharmacological treatment of eye diseases, including glaucoma, as well as work in the contactology. The journal is on the list of the Polish Ministry of Science and Higher Education. For publishing the article, the author receives 20 points.
We encourage you to submit: original papers, review articles, case reports, rapid communication, research letters, hypotheses, meeting proceedings, letter to the editor. We guarantee fast publication. There are no submission or processing charges.
Vol 7 No 2 (2020)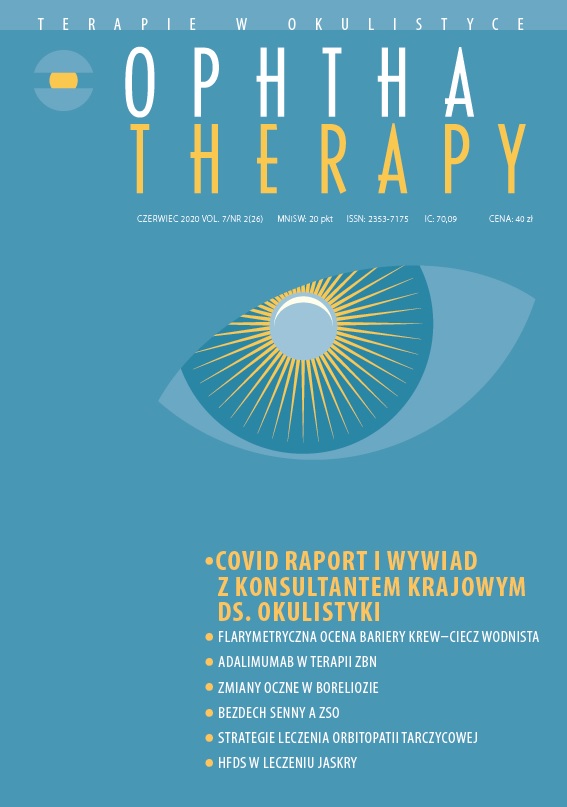 Szanowni Państwo,
pomimo pandemii koronawirusa kolejne zeszyty "OphthaTherapy. Terapie w okulistyce" wydawane są bez opóźnień. Podobnie jak w numerze 1/2020, tak w obecnym – drugim w tym roku zeszycie czasopisma znajdą się publikacje związane z problemami okulistycznymi w czasie epidemii koronawirusa. Dwie z nich to raporty specjalne dotyczące kontaktologii w dobie koronawirusa oraz konsekwencji związanych ze spadkiem zgłaszalności chorych okulistycznych w czasie epidemii. Na pewno zainteresuje Państwa również wywiad z konsultantem krajowym ds. okulistyki prof. dr. hab. n. med. Markiem Rękasem poświęcony bardzo aktualnemu obecnie tematowi bezpieczeństwa zabiegów okulistycznych w czasie epidemii koronawirusa.
Oprócz materiałów związanych z epidemią koronawirusa w niniejszym numerze znajdą Państwo 11 innych publikacji dotyczących problemów leczenia schorzeń narządu wzroku. Najwięcej z nich poświęconych jest terapii chorób siatkówki i naczyniówki. Omawiają one perspektywy zastosowania klinicznego nowego implantu RENEXUS® w teleangiektazjach okołoplamkowych, leczenia zapaleń błony naczyniowej, siatkówki i nerwu wzrokowego w przebiegu boreliozy, użycia nowego leku – adalimumabu w terapii zapaleń naczyniówki oraz laseroterapii siatkówki. Na pewno z zainteresowaniem przeczytają Państwo artykuł naszych koleżanek z Bułgarii poświęcony zmianom powierzchni oka w zespole bezdechu sennego. Pozostałe prace dotyczą leczenia orbitopatii tarczycowej, jaskry, zaćm wikłających, zapalenia worka łzowego, indywidualnego podejścia do terapii zespołu suchego oka oraz ultrasonografii gałki ocznej.
A więc przekrój zagadnień, z którymi będą się mogli Państwo zapoznać, czytając prace zamieszczone w obecnym zeszycie "OphthaTherapy. Terapie w okulistyce", jest bardzo szeroki i zapewne każdy z Czytelników znajdzie dla siebie coś ciekawego.
Published: 2020-06-30
View All Issues