"OphthaTherapy. Therapies in Ophthalmology" (abbr.: OphthaTherapy) is a peer-reviewed scientific quarterly publishing papers in: ophthalmology, ophthalmic surgery (including minimally invasive surgery and laser therapy), pharmacological treatment of eye diseases, including glaucoma, as well as work in the contactology. The journal is on the list of the Polish Ministry of Science and Higher Education. For publishing the article, the author receives 20 points.
We encourage you to submit: original papers, review articles, case reports, rapid communication, research letters, hypotheses, meeting proceedings, letter to the editor. We guarantee fast publication. There are no submission or processing charges.
"OphthaTherapy" accepts submissions in English only. Other language versions may be published as additional ones.

e-ISSN: 2543-9987 ISSN: 2353-7175 DOI: 10.24292/01.OT

Indexed in: Polish Journals Master List: 20 points
Index Copernicus:72.79
Google Scholar
Polish Scientific Journal Database
ARIANTA
WorldCat
Vol 8 No 3 (2021)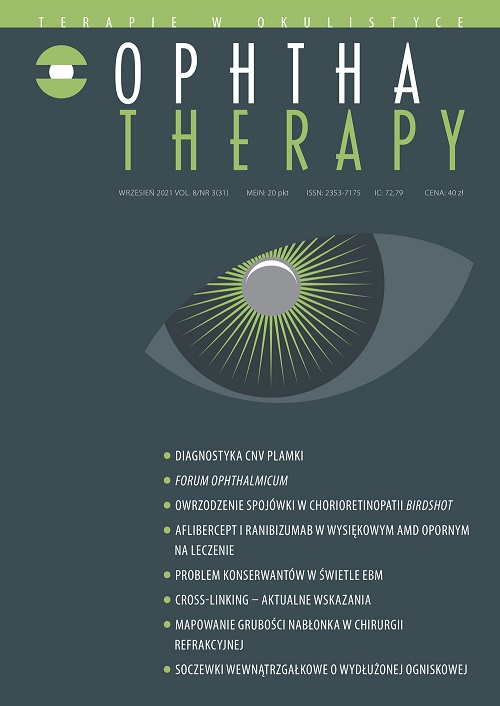 Szanowne Koleżanki i Szanowni Koledzy,
niniejszym oddajemy w Państwa ręce trzeci w tym roku numer naszego czasopisma "OphthaTherapy. Terapie w okulistyce". W zeszycie znajdą Państwo osiem prac dotyczących leczenia różnych schorzeń narządu wzroku. Otwierają ją trzy artykuły na temat zwyrodnienia plamki związanego z wiekiem (AMD). W pierwszym z nich autorzy opisują diagnostykę i terapię jednej z postaci neowaskularyzacji plamkowej występującej w wysiękowym zwyrodnieniu plamki związanym z wiekiem (wAMD). Druga traktuje o wprowadzonym ostatnio specjalnym oprogramowaniu umożliwiającym dokonanie u chorych z wAMD precyzyjnej analizy wielu badań wykonanych u danego pacjenta, łącznie z oceną skuteczności leczenia. W trzecim omówiono terapię chorych z wAMD niereagujących na dotychczasowe leczenie. W następnej pracy nasi koledzy z Hiszpanii przedstawiają rzadki przypadek owrzodzenia spojówki, które wystąpiło u pacjenta z chorioretinopatią typu birdshot poddanego terapii lekami immunosupresyjnymi. Dział Terapie zachowawcze zamyka artykuł poświęcony stale aktualnemu problemowi stosowania konserwantów w produkcji leków przeciwjaskrowych.
Drugą część czasopisma wypełniają trzy prace poświęcone leczeniu chirurgicznemu chorób narządu wzroku. Dotyczą one możliwości zastosowania cross-linkingu w terapii chorób rogówki, badania grubości nabłonka rogówki przed zabiegami refrakcyjnymi oraz użycia soczewek wewnątrzgałkowych o wydłużonej ogniskowej w chirurgii zaćmy.
W związku ze zbliżającym się Bożym Narodzeniem, najważniejszym świętem w naszej tradycji chrześcijańskiej, w imieniu całego zespołu "OphthaTherapy. Terapie w okulistyce" chciałbym złożyć wszystkim Czytelnikom najlepsze życzenia Spokojnych i Wesołych Świąt w gronie najbliższych.
Redaktor Naczelny
Prof. dr hab. n. med. Marek E. Prost
Published: 2021-09-30
View All Issues