"OphthaTherapy. Therapies in Ophthalmology" (abbr.: OphthaTherapy) is a peer-reviewed scientific quarterly publishing papers in: ophthalmology, ophthalmic surgery (including minimally invasive surgery and laser therapy), pharmacological treatment of eye diseases, including glaucoma, as well as work in the contactology. The journal is on the list of the Polish Ministry of Science and Higher Education. For publishing the article, the author receives 20 points.
We encourage you to submit: original papers, review articles, case reports, rapid communication, research letters, hypotheses, meeting proceedings, letter to the editor. We guarantee fast publication. There are no submission or processing charges.
"OphthaTherapy" accepts submissions in English only. Other language versions may be published as additional ones.

e-ISSN: 2543-9987 ISSN: 2353-7175 DOI: 10.24292/01.OT

Indexed in: Polish Journals Master List: 20 points
Index Copernicus:72.79
Google Scholar
Polish Scientific Journal Database
ARIANTA
WorldCat
Vol 8 No 1 (2021)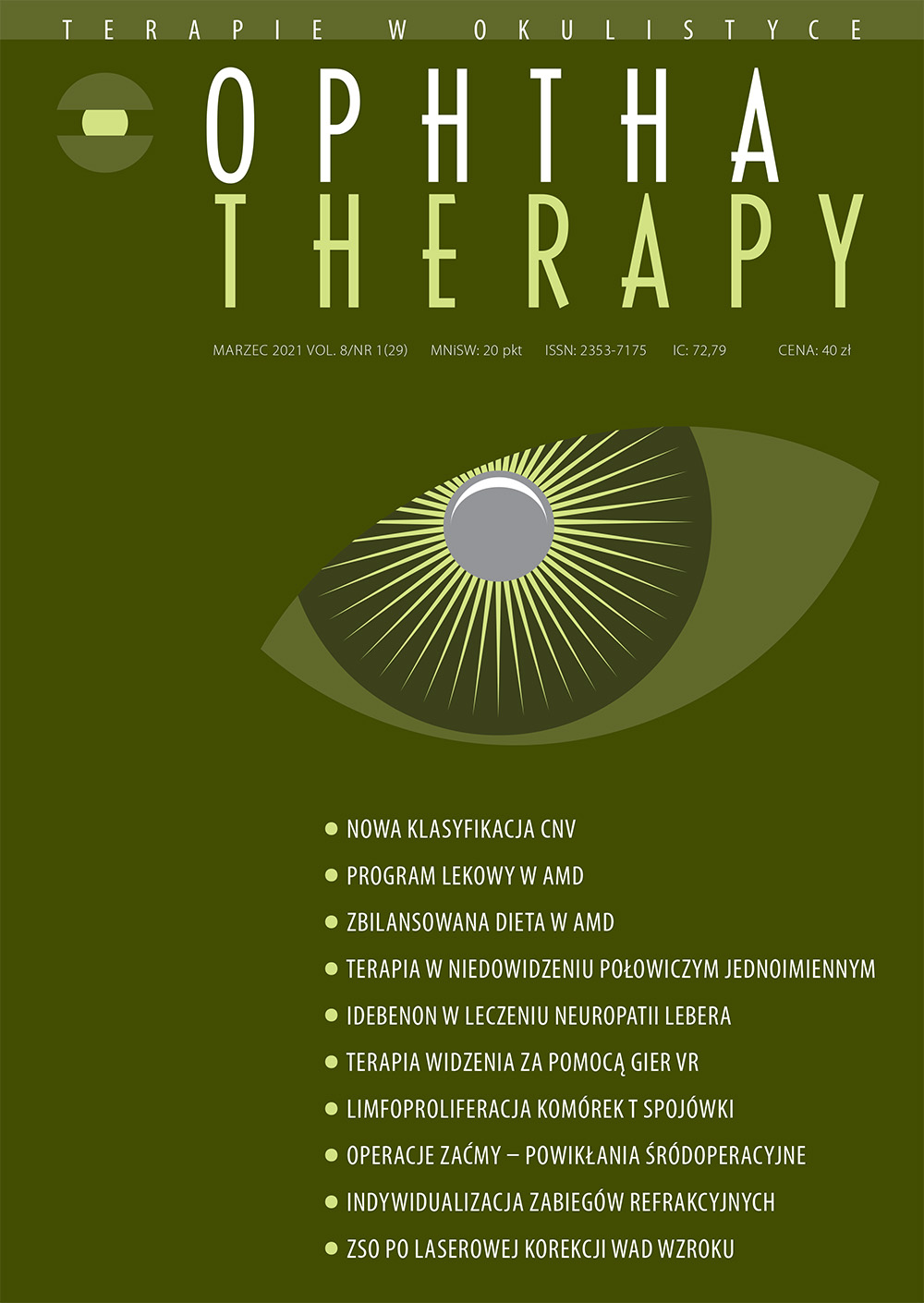 Szanowne Koleżanki i Szanowni Koledzy,
niniejszym zeszytem rozpoczynamy 8. rok wydawania "OphthaTherapy. Terapie w okulistyce". Znajdą w nim Państwo 10 prac dotyczących diagnostyki, leczenia zachowawczego, chirurgii i laseroterapii schorzeń narządu wzroku.
Numer ten otwiera artykuł omawiający opracowany w 2020 r. przez panel ekspertów konsensus dotyczący nowego nazewnictwa neowaskularyzacji w przebiegu AMD (Consensus Nomenclature for Reporting Neovascular Age-Related Macular Degeneration Data) uwzględniający nowoczesne metody obrazowania tych zmian na dnie oczu. W dziale Terapie zachowawcze będą Państwo mogli przeczytać jeszcze dwie inne prace o AMD, podejmujące temat oceny skuteczności stosowania programu lekowego wśród chorych z wysiękową postacią AMD oraz roli zbilansowanej suplementacji w diecie pacjentów z tym schorzeniem. Inne publikacje w tym dziale są poświęcone: terapii dziedzicznej neuropatii wzrokowej Lebera za pomocą idebenonu (pierwszego leku wprowadzonego do leczenia tego schorzenia), terapii niedowidzenia połowiczego jednoimiennego powstałego w wyniku udaru, urazu, guza mózgu, operacji lub wynikającego z innych, rzadszych przyczyn, leczeniu zaburzeń widzenia stereoskopowego z wykorzystaniem metod wirtualnej rzeczywistości oraz opisowi rzadkiej zmiany limfoproliferacyjnej spojówek.
W dziale Chirurgia i laseroterapia mamy trzy publikacje. Pierwsza z nich jest poświęcona ocenie wyników terapii pacjentów poddanych operacji fakoemulsyfikacji zaćmy z fiksacją soczewek wewnątrzgałkowych na torebkę przednią (tzw. implantacja do bruzdy rzęskowej). Pozostałe dwie dotyczą laserowej korekcji wzroku: indywidualizacji wyboru metody korekcji wady oraz problemu występowania, nasilenia i długości trwania zespołu suchego oka po tych zabiegach.
Mam nadzieję, że każdy z naszych Czytelników znajdzie w tym zeszycie interesujący dla siebie artykuł.
                                                                                           Redaktor Naczelny
                                                                               Prof. dr hab. n. med. Marek E. Prost
Published: 2021-03-31
View All Issues