"OphthaTherapy. Therapies in Ophthalmology" (abbr.: OphthaTherapy) is a peer-reviewed scientific quarterly publishing papers in: ophthalmology, ophthalmic surgery (including minimally invasive surgery and laser therapy), pharmacological treatment of eye diseases, including glaucoma, as well as work in the contactology. The journal is on the list of the Polish Ministry of Science and Higher Education. For publishing the article, the author receives 40 points.
We encourage you to submit: original papers, review articles, case reports, rapid communication, research letters, hypotheses, meeting proceedings, letter to the editor. There are no submission or processing charges.
"OphthaTherapy" accepts submissions in English only. Other language versions may be published as additional ones.

e-ISSN: 2543-9987 ISSN: 2353-7175 DOI: 10.24292/01.OT

Indexed in: SCOPUS: CiteScore 2022 - 0.1, CiteScore Tracker 2023 - 0.2
Polish Journals Master List: 40 points
Index Copernicus:72.79
Google Scholar
Polish Scientific Journal Database
ARIANTA
WorldCat
Vol 10 No 2 (2023)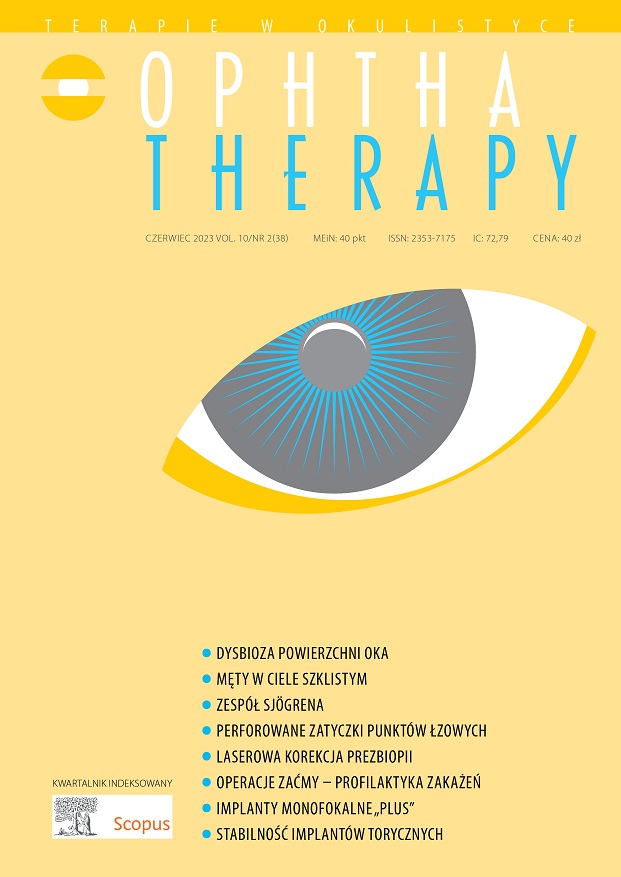 Szanowni Państwo,
oddajemy w Państwa ręce kolejny, drugi w tym roku numer "OphthaTherapy. Terapie w okulistyce". Znajdą Państwo w nim osiem prac dotyczących terapii zachowawczych oraz leczenia chirurgicznego schorzeń narządu wzroku, napisanych częściowo przez najbardziej znanych okulistów w Polsce.
W dziale Terapie zachowawcze będą mogli Państwo przeczytać prace o dysbiozie powierzchni oka (problemie, który nie jest jeszcze szerzej znany), diagnostyce i leczeniu mętów w ciele szklistym (schorzeniu będącym bardzo częstą przyczyną zgłaszania się pacjentów do lekarza okulisty) oraz o diagnostyce i leczeniu zespołu Sjögrena.
W dziale Chirurgia i laseroterapia można będzie się zapoznać z pięcioma pracami na temat leczenia nadmiernego łzawienia spowodowanego zwężeniem punktów łzowych, wpływu laserowej korekcji starczowzroczności na poczucie kontrastu, metod profilaktyki zakażeń pooperacyjnych, a także nowych soczewek wewnątrzgałkowych: nowoczesnych soczewek monofokalnych i stabilności rotacyjnej nowych soczewek torycznych w porównaniu z innymi soczewkami torycznymi.
Na koniec zeszytu, jak zawsze, znajdą Państwo informacje o aktualnych zjazdach okulistycznych w kraju i za granicą. Serdecznie zapraszamy do lektury niniejszego numeru oraz do dalszej współpracy i publikowania artykułów w "OphthaTherapy. Terapie w okulistyce".
Życzę Państwu miłej lektury.
Redaktor Naczelny
Prof. dr hab. n. med. Marek E. Prost
Published: 2023-06-30
View All Issues