The main area of OncoReview's scientific mission is the emerging field of interdisciplinary oncology, with particular emphasis on cardio-oncology. Scientific papers published in the journal concern modern diagnostic and therapeutic methods used in this population of patients, as well as all adverse events related to anticancer treatment. Objective assessment of the benefits and risks of new oncological drugs is a unique benefit of the published works.

e-ISSN: 2450-6125 DOI: 10.24292/01.OR

Indexed in: SCOPUS: SJR = 0.125; SNIP = 0.099
Polish Journals Master List: 20 points
Index Copernicus: 116.25
Google Scholar
Polish Medical Bibliography
Vol 13 No 1(49) (2023)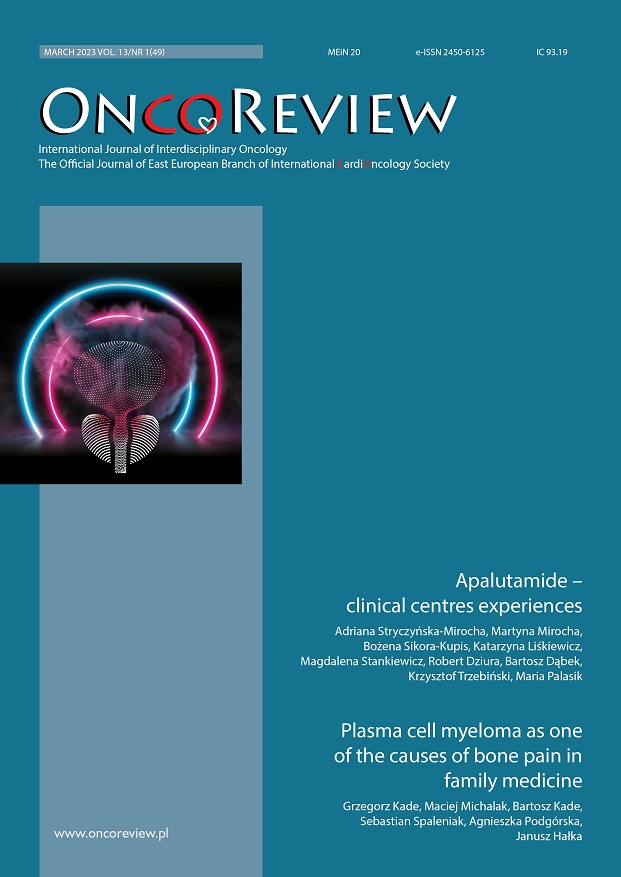 Dear Readers,
welcome to the this year's first issue of "OncoReview".
Prostate cancer is still the most common malignancy among men and one of the most common mortality factors in this population of patients. In the presented series of articles, oncologists from leading Polish oncology centers present the possibilities of treating this cancer with the use of moder  androgen receptor inhibitor – apalutamide.
On the other hand, Kade et al., in their case study, reminded about multiple myeloma, which can be the cause of bone pains often encountered in the practice of a family doctor. I hope you enjoy this new issue of our magazine. Thank you for reading it.
EDITOR-IN-CHIEF (Europe)
Radosław Grabysa, MD, PhD, Associate Professor
Published: 2023-05-14
SUPPORTIVE CARE IN ONCOLOGY
ONCOWATCH. PRACTICAL CLINICAL IMAGES
View All Issues