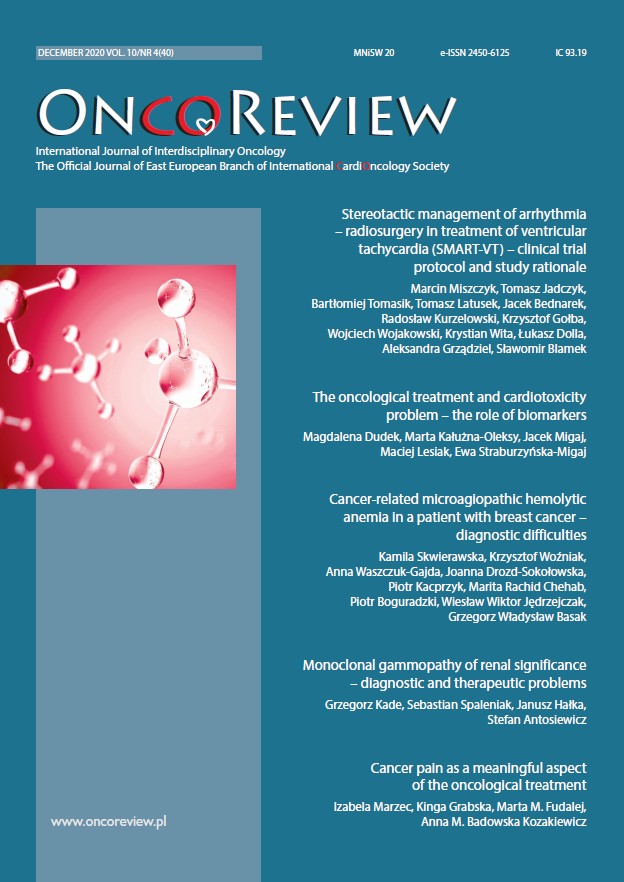 Dear Readers,

stereotactic arrhythmia radioablation (STAR) is a novel, last resort treatment method of life-threatening ventricular arrhythmias. The method is based on irradiation of the arrhythmia substrate identified with electrophysiological examination with high-precision image-guided radiosurgical methods usually used for ablation of malignant tumors. We are proud to present the protocol of the first Polish study on STAR in patients with intractable ventricular tachycardia (STAR-VT, nCT04642963) carried out in the Maria Sklodowska-Curie National Research Institute of Oncology in Gliwice, Poland.
In the next review article, Dudek et al. in concise form provide practical information on potential biomarkers in early detection of cardiotoxicity due to cancer treatment.
We draw your special attention to the description of a clinical case by Skwierawska et al. concerning cancer-related microangiopathic hemolytic anemia which is rarely recognized as a paraneoplastic syndrome with a very poor prognosis. Monoclonal gammopathy of renal significance (MGRS) means a group of renal diseases resulting from the presence of the monoclonal protein produced by plasmatic cells or other clones of B cells. Kade et al. present current state-of-the-art regarding the diagnostics and treatment of this clinical condition.
"OncoReview" columns are always open to young, promising researchers. In this issue we publish a work from Students' Scientific Organization of Cancer Cell Biology from Medical University of Warsaw, Poland. The paper by Marzec et al. discusses the mainstreaming of effective pain treatment and to review various assessments and scales regarding this important problem.
Sincerely,
EDITOR-IN-CHIEF 
Radosław Grabysa, MD, PhD, Associate Professor
Published: 2021-02-16