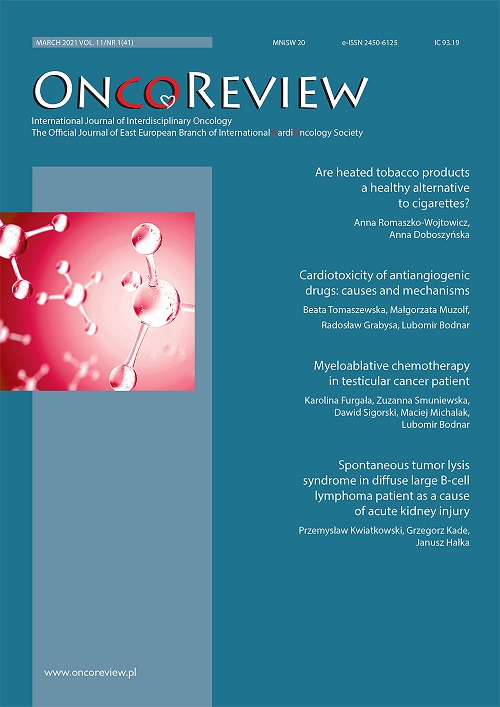 Dear Readers,
I would like to invite you to read the latest, spring issue of "OncoReview" which opens another year in the development of our magazine.
In the current issue , I recommend to your particular attention an excellent review article by Anna Romaszko-Wojtowicz and Anna Doboszyńska, concerning the so-called "heat-not-burn" tobacco products, which are to become a new weapon in the fight against the fatal smoking addiction.
With the publication of this paper we would like to open a kind of debate on this "hot" topic, in which, apart from pulmonologists, oncologists, cardiologists and other specialists will participate.
Oncological therapy with angiogenesis inhibitors is undoubtedly an advancement in modern cancer treatment, however, it is associated with a risk of developing cardiotoxicity, which can manifest in myocardial contractile dysfunction or an increased risk of thromboembolic events. The article by Beata Tomaszewska et al. presents the current state-of-the-art on the mechanisms of cardiotoxicity of antiangiogenic drugs most commonly used in routine clinical practice.
I draw your attention to the description of a very interesting clinical case by Karolina Furgała et al. demonstrating the role of chemotherapy with autologous hematopoietic stem cell transplantation in advanced non-seminoma testicular cancer.
In turn, in the "OncoWatch" unit, Przemysław Kwiatkowski et al. concisely present tumor lysis syndrome which is rare complication in the course of malignant large B-cell lymphoma.
As always, I wish you developing and inspiring reading,
EDITOR-IN-CHIEF (Europe)
Radosław Grabysa, MD, PhD, Associate Professor
Published: 2021-04-19
ONCOWATCH. PRACTICAL CLINICAL IMAGES