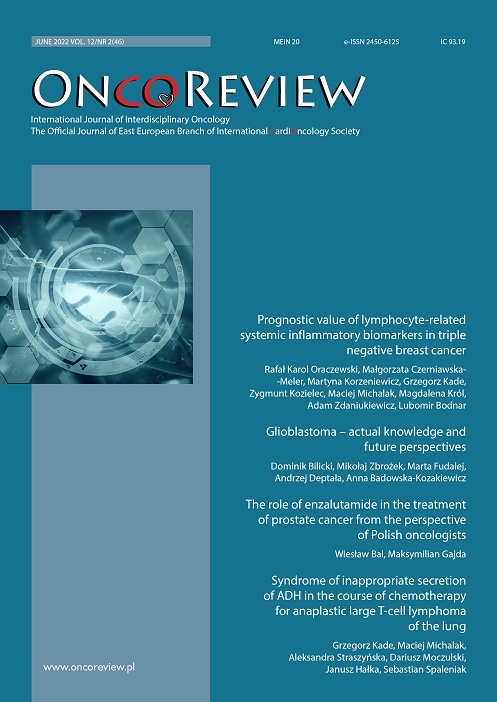 Dear Readers,
I strongly encourage you to read the current issue of our magazine. In the issue you can find four very valuable, in my opinion, scientific papers.
The first one is an original work from the Warmian-Masurian Cancer Center in Olsztyn, where I am also honoured to work. Oraczewski et al. present the results of a retrospective analysis which confirmed the prognostic value of systemic inflammatory biomarkers such as neutrophil to-lymphocyte ratio, platelet-to-lymphocyte ratio, and systemic immune inflammation index as prognostic factors in triple negative breast cancer.
Another review paper is the result of the work of young scientists from Students' Scientific Organization of Cancer Cell Biology, Medical University of Warsaw and summarizes the current state of knowledge regarding the diagnosis and possibilities of modern treatment of glioblastoma, which is  considered a glioma with a very poor prognosis.
The third article, the authors of which work at the Maria Sklodowska-Curie National Research Institute of Oncology in Gliwice, summarizes from the perspective of Polish oncologists, the place of the modern anti-androgen enzalutamide in the treatment of prostate cancer.
The current issue of "OncoReview" closes a very interesting clinical OncoWatch report concerning a syndrome of inappropriate secretion of ADH in the course of chemotherapy for anaplastic large T-cell lymphoma of the lung.
As always, I wish you a pleasant and motivating reading,
EDITOR-IN-CHIEF (Europe)
Radosław Grabysa, MD, PhD, Associate Professor
Published: 2022-06-30